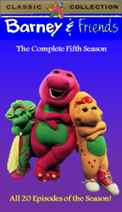 Episodes
Barney Doll Closing Shotsgoodbye for now
Trivia
This season marks:
The first appearances of Emily and Linda
The last appearance of Booker T. Bookworm
The second season to premiere in one month.
Ashley and Alissa never made an appearance with Emily or Shawn without glasses.
The vocals for the Barney Theme Song were rerecorded, but the instrumental track remained the same from the previous season.
In this season, Marisa Kuers (Hannah) does the fundings for the show.
This is the last season to use the 1993 PBS Kids logo with the P Pals.