Barney Says is a segment at the end of most Barney & Friends episodes. In this segment, Barney recalls and reinforces the lessons learned in the episode. In addition, he suggests fun activites that the viewer can do at home to learn more about the episode's topic. For example, in A Camping We Will Go, Barney suggests the viewer to make a tent and pretend they are in the forest, camping out.!!!!
At the beginning of the segment, Barney says:
Hello again to all my friends.
I'm glad you came to play.
Our fun and learning never ends.
Here's what we did today!'
At the end of the segment, Barney usually says something along the lines of "And remember, I love you." He sometimes signs off with a different manner, such as "And you know what? I love you." Starting in Season 3-8 Barney Says will start with a child saying "Hey everybody, it's time for Barney Says!" Also in Seasons 3-8 and 12, Barney pops out on the bottom left corner of the screen and says his signature send-off. Then he waves goodbye before the end credits.
Replacements
In Season 9, the segment was replaced with one with a female announcer talking about how the episode encourages kids to explore their world among other things. In addition, she explains how Barney is "a helping hand for growing children," and later returns of Season 7 and 8.
In Seasons 10 and 11, there was a similar segment called "Let's Play with Barney," where Barney gives commentary on some kids having fun.
In episodes from Season 13, to fit with the travel theme, an almost identical segment featuring the Barney's Travel Book is shown with Barney explaining each episode's journey and explaining more about the country's culture.
Background Music
In Season 1-3, original composition plays.
In Season 4-6, the music was changed. Although the costumes for the show changed for seasons 4, 5, and 6, the costume remained the same for the Barney Says segments.
In Season 7, 8, and 12 the background music for Barney Says is an instrumental version of Being Together.
Barney Says Title Cards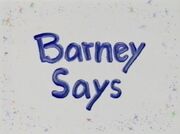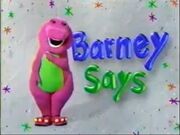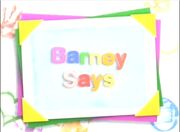 Community content is available under
CC-BY-SA
unless otherwise noted.